There are several different types of home loans for both new home buyers and current homeowners. The most appropriate option will depend on your situation and your goals for the mortgage. The table below offers a quick look at the basics of each loan type then additional details for each are provided in the info that follows.
Loan options can sometimes be confusing, so I'm happy to answer any questions you have and to provide guidance as you make a decision. Together, we can review the pros and cons of each option and decide which type of loan best fits your needs.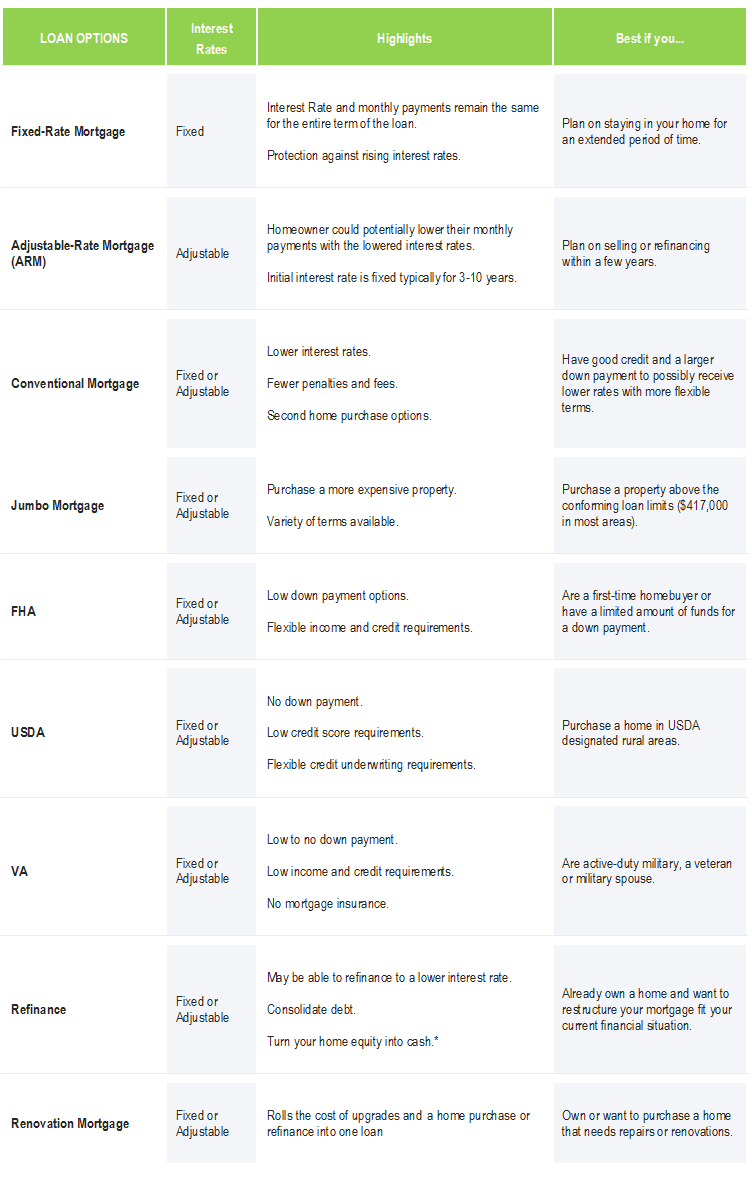 *Appraised property value may affect loan amount.
**The cash from equity is usually tax free. This information does not constitute tax advice or financial planning advice. Please consult a tax advisor for tax advice and a financial planner regarding enhancements to retirement plans. Fairway is not affiliated with any government agencies. These materials are not from HUD or FHA and were not approved by HUD or a government agency. Reverse mortgage borrowers are required to obtain an eligibility certificate by receiving counseling sessions with a HUD-approved agency. Must be at least 62 years old. Loan proceeds are not considered income and will not affect Social Security or Medicare benefits. Your monthly reverse mortgage advances may affect your eligibility for some other programs. Consult a local program office or your attorney to determine how, or if, monthly reverse mortgage payments might affect your specific situation. At the conclusion of the term of the reverse mortgage loan contract, some or all of the equity in the property that is the subject of the reverse mortgage no longer belongs to you and you may need to sell or transfer the property to repay the proceeds of the reverse mortgage with interest from your assets. We will charge an origination fee, a mortgage insurance premium, closing costs or servicing fees for the reverse mortgage, all or any of which we will add to the balance of the reverse mortgage loan. The balance of the reverse mortgage loan grows over time and interest will be charged on the outstanding loan balance. You retain title to the property that is the subject of the reverse mortgage until you sell or transfer the property and you are therefore responsible for paying property taxes, insurance, and maintenance. Failing to pay these amounts may cause the reverse mortgage loan to become due immediately. Interest on reverse mortgage is not deductible to your income tax return until you repay all or part of the reverse mortgage loan.